From ARAMCO WORLD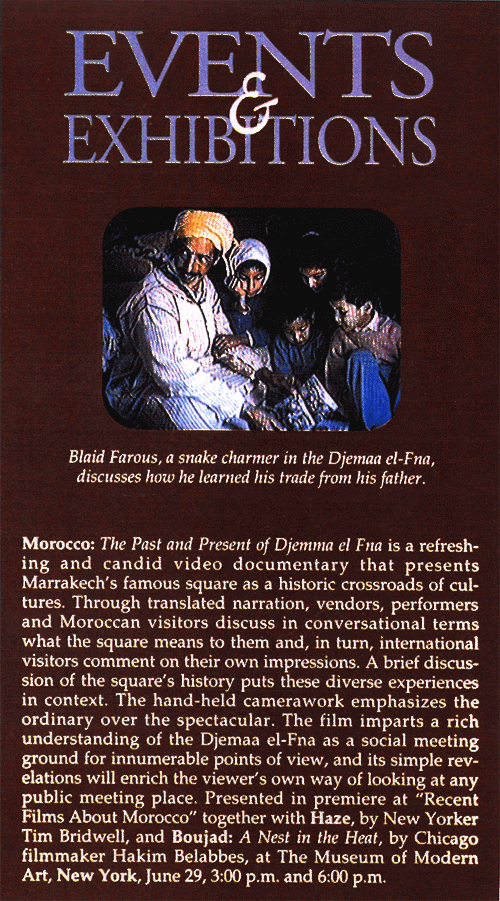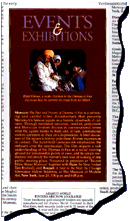 Screenings and Honors:
New York's Museum of Modern Art (William Sloan, curator)
CINE Golden Eagle Award, Washington, D.C.
Atlanta Film & Video Festival
Middle East Studies Association FilmFest
Chicago International Children's Film Festival
Hommage au Maroc Alliance Française




Review of the Casablanca Premiere (Dar America, April 14, 1995):
Throughout the video, Montgomery treats his subjects with dignity and warmth. While many Americans find the acrobats, soothsayers and shadowboxers frightening or exotic, Montgomery shows their human qualities... There is a poignant moment when we see the snake charmer buying his son a shiny new pair of jeans and hear his hope that the boy will have a better life than that of a performer at the Djemma el Fna... The puzzled look on the faces of some of the Western tourists as they witness the spectacles of the Djemma el Fna is a source of humor. Those viewing the film suddenly realize we have come to identify with the Moroccan performers, who at the start of the film had seemed so foreign, literally outlandish... The event received press placement in five Moroccan dailies.
From Judith Baroody's USIS report
---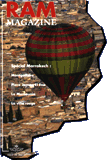 HEART OF MOROCCO:
PLACE DJEMMA EL FNA
By Steven Montgomery
(Published in RAM Magazine, 4/96)
Four times, Morocco has been my destination as a tourist, but I never understood my strong attraction for that country until recently -- when I had the great experience of producing a short documentary film there. The subject of the film is the public square of Marrakech, called the Place Djemma el Fna. Known for centuries for its storytellers, musicians, acrobats and snake charmers -- this enchanting locale has drawn such Westerners as Winston Churchill, Edith Wharton and more recently, Led Zeppelin band members.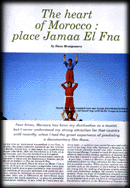 Some Moroccans affectionately call Djemma el Fna, the heart of Morocco, and I have come to share this feeling with them. During a visit in 1990, I was amazed to see so much tradition and life in one place: a storyteller surrounded by the awed faces of children as he spun a tale of ancient Morocco. A young acrobat, dressed in red satin, was perched atop a human pyramid. A turbaned snake charmer gently coaxed a cobra from his basket with his flute-like instrument, the ghaita; costumed monkeys danced to wild drum beats; a medicine man waved his arm and with a swirl of his long, blue robe, bestowed a blessing on the crowd which included myself and other visitors from America and Europe. I wanted so much for Americans and others to share in this exciting experience of stepping back in time that I decided to make a film about Djemma el Fna.
A year later, I returned to Morocco. It was then I began to understand better my deep attraction for this mysterious but accessible country. While ancient customs are everywhere such as the use of looms in the making of gorgeous carpets, story telling as a means of educating the young and the usage of herbal medicines in treating illness, the country is distinctly modern. From my hotel in Casablanca situated across from the old city, the Medina, I had the latest technology at my disposal such as a fax machine to communicate with Government officials at the Ministries of Tourism and Information who would grant me support for my film project.
I spent two weeks filming at Djemma el Fna. As I again encountered the crowds and magic of the place, I was filled with awe and expectation. Centuries ago, men who arrived at the square by camel caravan must have felt similar emotions. And as I was drawn more and more into the experience of filming the living history of Morocco, my life felt all the more exciting and enriched.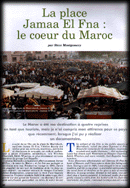 With camera in hand, I began interviewing my first subject, Blaid Farrouss, the snake charmer. While other snake charmers in the square seem to be merely posing for tourists, Blaid sits proudly erect, practicing his ancient ritual and promising everyone who witnesses his show that they will receive the "baraka" or blessing of good luck. As Blaid and I spoke, I learned that every year, he travels many kilometers to the Sahara desert by bus to capture cobras just like his father, grandfather and great grandfather had done before him. However, Blaid's life is also modern and unlike that of his ancestors.
During a visit to his home, where I also filmed, there was a television set and other modern appliances. Blaid's 7-year-old son Kamal is enthralled by T.V. programs beamed to Morocco by satellite from France and other countries. He also wants to learn the ancient craft of the snake charmer and follow in his father's footsteps. Yet, Blaid closely monitors his son's progress in school. Like fathers everywhere, he's looking to the future and wants Kamal to do better in his life than he has done in his own. He's not sure he wants his son to make his living charming cobras.
In searching for further evidence about the past and present at Djemma el Fna, I sought the guidance of the renowned Moroccan historian, Hamid Triki. Mr. Triki and I sat by the pool of a modern hotel in Marrakech, while he explained the square's function of centuries ago as a destination for caravans from across the Sahara which transported gold, ivory, medicines and perfumes. For the caravans, the square was a trading point and is said to have featured the same kinds of entertainment as we see today.
Luckily, I was able to include graphic footage in my film of earlier performers at the square through the kind assistance of Souheil Ben Barka, Director of the Centre Cinematographic Marocain. From the C.C.M. film archives, Mr. Ben Barka gave me a print of a black and white 35mm newsreel film from 1928, which shows scenes of story telling and arab musicians, proving that the square then was remarkably similar to what it is today.
I was also able to incorporate other historical items in my documentary. One unexpected artifact came my way when I was invited to be a guest of the late Countess, Charles de Bruteuill at her home in Marrakech, the splendid Villa Taylor. There I stayed in an ornate bedroom where Charlie Chaplin had once slept. Perhaps, like myself, Chaplin was dreaming of new ideas for his films! The next morning -- much to my surprise -- on the wall, I noticed a canvas of Djemma el Fna which the Countess told me had been painted by Winston Churchill, another former guest at the Villa Taylor. She allowed me to photograph the painting and use it in my film about the square!
Finally, I needed a musical score for the film. Who better to contact than U.S. recording artist, Hassan Hakmoun who had grown up in Marrakech and first played his Gnaoua music in Djemma el Fna? In his state-of- the-art recording studio in New York, we recorded sounds which evoked his childhood in Marrakech, using rhythms from centuries ago for the film. I was awestruck as Hassan sang one song in a mysterious low wail, accompanied by an ancient, three string guitar-like instrument, the santir.
The completed film, entitled, MOROCCO: THE PAST AND PRESENT OF DJEMMA EL FNA, had its premiere on June 29th, 1995 at the Museum of Modern Art in New York -- and the show was sold out! As the lights went down, images of the Moroccans -- Blaid, the snake charmer, the acrobats, the storyteller and children -- shone brightly on the museum's large screen. Like the visiting tourists from the West whom I had seen at the square, the audience was captivated by these exotic people who as the film progressed, however, appeared more and more familiar and friendly. At the film's end, the face of a Moroccan teenage musician of the nineties filled the screen, then dissolved to the face of a teenager of 1928 performing in the same square: "THE PAST AND PRESENT OF DJEMMA EL FNA". I feel this montage represents the lovely way Morocco itself has maintained its traditions into our century.
The film is beginning to reach other American cities. It received the CINE Golden Eagle award in Washington D.C. and the Silver Award at Worldfest Houston. At a screening at the Chicago International Children's Film Festival, young people marveled at the people of Djemma el Fna; and at the Middle East Studies Association Filmfest in Washington, D.C., anthropology professors discussed the film and the square's unique function as both an outstanding tourist attraction and social meeting place for Moroccans.
Best of all, I finally know what it is that I love about Morocco. While some countries have destroyed antiquity and others seem stuck in the past, Morocco stands alone in this regard. Its beauty is in how it dramatically links history with modern hopes making it possible for present-day lives to be enriched by humanity of the past. The American poet and critic Eli Siegel, founder of Aesthetic Realism, wrote, "All beauty is a making one of opposites, and the making one of opposites is what we are going after in ourselves." This statement explains my care for Djemma el Fna, "The Heart of Morocco" and the country itself.